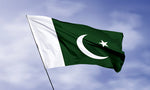 Photo by Muhammad Qaan From Unsplash
This quarantine has confused the school situation in ways we've never seen before. Some states are offering a face-to-face learning option, with virtual school being another choice. Virtual learning is a middle-ground between in-person learning and homeschooling. Many parents are left feeling a bit overwhelmed and maybe afraid of what to do to make sure their child's educational needs are met.
Photo by Prostooleh From Freepik.
Although we are not experts in the 3 Rs, Mama does know a lot about one thing -- Pakistan. Using information from many resources about her home country, Mama's Masalas has put together a quarantine school lesson plan. This lesson plan can be used by teachers of all types and levels, even after the pandemic. Order a Mama's Masalas seasoning to taste the flavor of Pakistan without the (cost-prohibitive, if not COVID-prohibited) of traveling to the country.
Photo by Jamie Brown on Unsplash
The Basics
Image by Harish Sharma from Pixabay.
Professional educators will tell you that you need to have course objectives when creating a lesson plan. For those of you who are neither professional educators or know what course objectives are, Mama is here to help. Her lesson plan on Pakistan covers the basics of some important subjects:
Social studies: demographics, religion, politics

Math: economy

Geography: well, geography of Pakistan
Yep, there's a discussion of GDP to be had, tables and maps--all the stuff that only a select few find interesting, but they always turn up at test time. We've also included the links to our sources so you can delve deeper if your student(s) want to know more.
The Fun Stuff
Photo by Hassan Wasim on Unsplash.
The first thing Mama would like to tell you about Pakistan is that it's not basic. Of course, you need to know what's in the north, where the Indus River runs, and why that's important, but that's not the fun part! The fun is in learning about Pakistanis and their history. For instance, connect some historical dots between Pakistan and the United States. Did you know that both have a Constitution created after gaining independence from Britain? True story. 
For real fun, and maybe some enjoyable and relatable torture, we also added a 1954 video about Pakistan. Remember those? You got excited that the teacher brought in the vintage film projector and then loathed the dry content that you could care less about? A lot has happened in Pakistan between 1954 and today. Encourage your students to stay focused for those changes--and laugh along as the familiar drudgery unfolds before a new generation.
The Yum Stuff
During the lesson, bring Pakistan right into your own kitchen! Order Mama's Masalas seasonings for a Pakistani-inspired meal. Don't worry, the kids will love it. While traditional Pakistani seasonings are known for their heat, Mama is, well, a mom, and developed her seasonings for a more delicate palate. The result is kid-approved meals.
Photo by drobotdean on Freepik.
Pakistan might be a lesser-known country. That makes it a great reason to travel there as part of your quarantine school curriculum. We've given you the tools and resources you need for an authentic Pakistani learning experience. Get to know the history, the culture, and the people of Pakistan. After a long day of adventure, make an exotic Pakistani dish ready in under an hour. It'll be one of the tastiest lessons you teach all year!
Click here to get Mama's Masalas' Pakistan Lesson Plan.

Renée Clare-Kovacs
Contributing Author