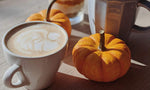 Photo by Saroj Shilpakar from ShutterStock.
You were probably in preschool when pumpkin spice season began. Refinery 29 refers to it as a "17-year zeitgeist" that has crept into nearly every aspect of our lives. At its origin, the green goddess coffee brand (you know who we're talking about) began selling the spiced latte on the first day of fall, but even that release date has crept further away from the core date, bringing the zesty, rich spice blend back to, well, everywhere. What, exactly is pumpkin spice and what has made it so dang popular?
What Is Pumpkin Spice?
The trend of the blend that sparked the 17-year zeitgeist is actually quite simple: it's a mix of cinnamon, ginger, nutmeg, allspice, and cloves. Yeah. That's it. Before the explosion into lattes, candles, and so many other items that Charmin puts out a yearly public service announcement that "we do not make pumpkin spice toilet paper. Even Charmin isn't THAT basic…", you probably passed over tins of it in your mom's spice cabinet. Before that, your grandma probably made her own mixture with fresh spices using a recipe that looked something like this:
Why Is It So Popular, Then?
While we read the first paragraph of the Refinery 29 blog about pumpkin spice season, we were nodding in total agreement--we couldn't say it any better ourselves, "Never mind that we're still deep in the sweltering depths of summer, the simple idea of woolen sweaters and scarves enough to give us hives. Or that a global pandemic is upending lives, ravaging the economy, and keeping people indoors...food purveyors are trying to convince us there is a distinct nip in the air and the soft crunch of foliage underfoot." Word!
Mama's Masalas is currently running a marketing campaign about the length of summer that we call Bored BBQ--last week's blog was about spicing up your barbecue. We're in the dog days, folks. We've soaked up the sun, played in the water, cooked in the backyard, soaked up more sun, gone to farmer's markets, played in the water again, our gardens are starting to wilt and drop leaves because, like us, they've been sweltering in the heat for months. We're all ready to feel the drop in temperatures. Cozying up in our favorite boots and hoodies is sounding really good right now. Maybe you even have your air conditioning turned down to create a sense of that chill that won't come for another good month.

The green goddess hears you. She pumped the pumpkin spice latte (aka PSL) back into her stores on August 25. You read that right, August 25--a full month before fall begins according to Mother Nature. We shouldn't shame the poor girl for her smarts on this one. We're all feeling the need for something snuggly and hopeful after being in some state of heightened awareness since March. After 6 months of being at home, apple orchards and pumpkin farms are begging us to come visit. The thought of gathering with family for a chili cookoff or around the holiday table is even sweeter this year. 
Don't Just Drink Your Spices
Taking the lead on the now iconic pumpkin spice season, pumpkin spice is in everything. Last year The Daily Meal posted a list of "Every Pumpkin Spice Product You Can Buy" dated October 1. Some of the products on the list with the pre-mix:
Pasta

Deodorant

Soap

Dog treats

And our favorite--Spam
Photo by SPAM® from Spam.com.
It sounds like a joke, but it's not. Pumpkin spice Spam is real. 
The thing is, the mix of cinnamon, ginger, nutmeg, allspice, and cloves has a definitive fall taste that we associate with pumpkin pie because, well, it is the prescribed mix for pumpkin pie. If we're honest, the mixture is good on most things that come out of a fall harvest. Try sprinkling it on apples, squash, and, yes, pumpkin, and baking until soft. Our own Mama is quite familiar with these spices as they are used in Pakistani cooking. In fact, you'll find them in our seasonings. So, don't be surprised when you grab that PSL before work and then heat up your leftover Mama's Masalas meal from the night before and experience similar tastes. Thing is, we don't need a season to enjoy zest seasoning mixes, Pakistani-inspired foods have full flavor every season! Stop drinking your spices in the fall and start enjoying them year-round.

Renée Clare-Kovacs
Contributing Author