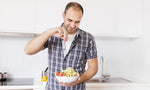 Photo from Freepik.
Mama's Masalas started in the kitchen of a mom cooking for her children. Back in Pakistan, decades ago, she was used to Pakistani cooking flavored with peppers and chilis. A couple of years after she and her family arrived in the United States, she perfected her palate-pleasing seasoning blends to her and her family's likings. Chances are your preference is somewhere in the middle, so we want to help you find the right balance for everyone at your table.
Walk on the Mild Side🌶️
Photo by mystraysoul from Pixabay.
If you've resisted making a purchase from Mama in the past, thinking the flavors of Pakistani cooking might be too much, then we have good news for you! Although chilies and peppers are common flavorings for Pakistani cuisine, there is more to it! For instance, if you look at our website and see the ingredients listed on some of our seasonings, you'll find that Mama uses mild ingredients like sesame seeds, cardamom, and coconut milk solids that temper the heat. To keep things even more interesting, Mama uses dried ginger and garlic flakes to bring familiar tastes that increase flavor while staying on the mild side. 
Turned Up Traditional🌶️🌶️
Photo from Pikwizard.
If you're familiar with traditional Pakistani cooking, have tried Mama's Masalas seasonings, and wondered which spices are used, Mama is here for you. We haven't forgotten to include Pakistani cooking staples like smoked cayenne, pepper, and red chili. Remember, we're a family affair, so if the taste doesn't meet your temperature preference, take matters into your own hands! The easiest way to add more heat without altering the dish's flavor profile is to add ground cayenne pepper to your taste.
Photo by jcomp from Freepik.
Suppose you're more adventurous and want to play with the flavor. In that case, Royal Nawaab has a list of 10 spices found in Pakistani cuisine. Here are a few of our recommendations that can be used to turn up the heat:
Red Pepper Flakes

Dry Ginger Flakes

Whole Garam Masala 

Black Pepper

Cayenne
Remember that a little can go a long way with spices. You can always add, but you can't take out. 
And a Little Love❤️
Photo by 8photo from Freepik.
Regardless of where your taste preferences lie, Mama's not-so-secret ingredient is something you can't buy--love. It is important to Mama, and the rest of us, that our seasonings are as fresh as possible. That is why we keep package weights low and have introduced seasoning tins. We want to make sure you have the right amount for making a quick Pakistani-inspired meal with fresh ingredients. Add your store-bought produce to add your own love. Watch the use-by date on your seasonings, though. Both spices and seasonings change as they age, causing them to become stale, lose flavor, or decrease intensity. If you want to serve something aged with your meal, Mama approves a bottle of wine.
Don't let the Pakistani-inspiration of Mama's Masalas scare you, or the mellow tastes of our seasonings. We want everyone to enjoy our seasonings as a way to make a delicious, healthy meal at home while savoring the flavors of a faraway place. One of the benefits of Pakistani cooking at home is that you control each plate's temperature, making it easy to please everyone no matter where their tastes lie.

Renée Clare-Kovacs
Contributing Author