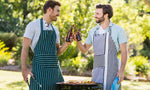 Tailgate Tips (BBQ)
2020 has been without a doubt the most (period) messed up (period) year (period) on record--period! It has taken graduations, weddings, and public gatherings from us and now is robbing us of our football season! Rude! Like everything else involved with the pandemic, getting through football season will take some creative adjustment. Okay. We're not stupid. We know that nothing beats a tailgate, the hoards of fans, the fight song playing across the parking lot, food of all kinds for as far as the eye can see, and the smell of tailgate bbq filling the air. But, Coronavirus, and we can't have nice things--so we embrace the changes of tailgating at home.

You Get to Use Your Kitchen
Photo by PhotoMIX Company from Pexels.
This may be the best part of tailgate bbq in your backyard. Sure there's something special about having a grill in the parking lot of the stadium, but when you're at home, you have access to your things, especially that one thing that you always forget. Someday you'll be one of those tailgaters with a huge, custom-painted RV, especially stocked for gameday, but for now, enjoy the chance to have your kitchen right next to your grill. Our Lahori Chicken Tikka BBQ recipe calls for broiling, which you can absolutely do. But make sure you get the grill to 525 °F - the temp of our broil - and you can quickly move it to the rack for a delicious, layered flavor from Pakistan! We recommend serving with lemon wedges, chutney, raita, garlic yogurt, and ranch. Let's be honest, you don't get that kind of variety in a parking lot.
Coals or No Coals?
Photo by Ariel Paredes from Pexels.
At the stadium, you have little choice in cooking--a bag of charcoal is easier than pulling around a propane tank--but not so at home! Most of us have gas grills at home which presents new options for tailgate bbq. 
Like all else in football, there are passionate fans on either side of the charcoal vs. gas debate. Remember, we're all in Mama's family. We have fans on both sides. Accepting all loyalties allows us to get the most of every method. If anyone knows about barbecue, it's Amazingribs.com. Meathead Goldwyn's review, Charcoal Grill vs. Gas Grill Throwdown: Let's Settle This Once and for All is a college-level course full of science and "a few inflammatory thoughts." Give it a read. It'll give you homework to last you through both college and pro seasons.
Best View of the Game
Photo by Robert Hernandez Villalta from Pexels.
Maybe the best part of tailgate bbq in your own backyard is that your seats are close to home. While it's an experience to be among thousands of your favorite friends, all pulling for the same goal, and your team's victory at games, there's something to be said for being at home.
Photo by Ketut Subiyanto from Pexels.
Football season is incredible because of the electricity in the air, but not the chill. Even if you have seats at the 50-yard line, your view is limited. Watching on the big screen from home includes some of the following benefits:
Able to watch from the comforts of home

Can move the TV outside to enjoy the weather

Access to additional sweaters and blankets for warmth

TV gets the best views of the game

You can sound like a professional by listening to the commentary

The bathroom is close--and private

Your pets can watch too
Take One For the Team
So, no, it's not like it was but that's just the norm, right? If being able to tailgate means bringing the bbq to our backyard, then we'll do it. And it's not like it's the worst thing in the world. We get better views, better amenities, better food, and we get to create our own experiences, not go along with the crowd. 
Mama is the biggest fan, but even she is happy to make the most of what's left of quarantine football. Embrace the changes and get creative. And wear your mask!

Renée Clare-Kovacs
Contributing Author