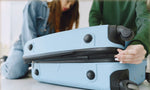 Courtesy of Gustavo Fring from Pexels
We're Moms. We worry. 
College kids are getting ready to head back to campus, making parents across the country concerned. Sure they have (expensive) meal plans on campus, and off-campus they have kitchens in their apartments, but are we really ready for them to be out on their own? 

Although we did raise them to take care of themselves, the limitations of dorm living and the lack of life experiences have led to a justified parental concern, and Mama gets it. Read below to check out our cooking hacks that will leave both you and your college child feeling comfortable and satisfied.
Dorm Hacks 
Sharing a room can be problematic; not to mention, living on a floor of rooms can be troublesome too. Put them together and, well, there's room for concern. At the room level, college students have to live a Spartan lifestyle that leaves them with only a fridge, a microwave, and maybe a source for hot water. At some point, these will be the only tools available to them for making up for missed home-cooked meals. 
But don't panic, Mom! They know how to Google.
It's how we found these 26 (healthy) dorm room recipes from Live Eat Learn that even we were kinda thinkin' about making in our own full-sized, grown-up kitchens. Their recipes require a few things over and above the standard dorm tools you send with them - most notably a hand mixer. But it's not a bad idea to purchase one because it's certainly something they will take with them after they graduate.  
Kitchen Cooking Hacks
Courtesy of Andrea Piacquadio from Pexels
Some dorms have kitchens on each floor, making it easy for late-night meals. While this is great help, communal cooking rules must be followed:
No warming tuna in the microwave

Try not to burn popcorn

Use your own pots and pans

Bring your own food

And spices

Clean up when you're done
Share these rules with your college son or daughter, and you'll already be a legend on Parent's Weekend. Bonus tip: If you're a student, pick a day from the weekend to plan to make breakfast for the floor. You never know when the friends you make will help you when the struggle bus comes to town. 
If your child happens to go to a school where students move off-campus, they'll either have to make their own meals or buy takeout. We all know how boring cereal, ramen, mac and cheese, and fast-food can get after a while and the lack of health benefits--where to start? Our Pakistani Butter Chicken is a quick, healthy meal that can be made during a study break and will leave delicious leftovers for lunch (Click on the picture below to see the recipe.). Bonus tip: Any of Mama's Masalas products combine for a better date meal than takeout from the local dive.
Find more of Mama's on Pinterest. We post recipes, cooking hacks, videos, and other exciting information.
Send 'Em Some Love
As parents we know that meal planning takes time, a resource college kids don't always have. Help your college student be prepared by sharing with them these cooking hacks, and by sending one, two, or all of Mama's seasoning mixes on a regular basis.
Courtesy of Samantha Hurley from Shopify
It's always great to get a care package from Mama, right? We deliver to college mailboxes and apartment doors. Mama's Masalas bust the boredom out of Chinese food or takeout pizza and are much healthier. Each package comes with an ingredient list and step-by-step directions for how to make the meal. Once they try one, they'll be calling home to find out where to get more! And you know proof of life is what it's all about at this stage of the game. 
If you enjoyed this week's posts, then you'll love Mama's Heat Up the Grill with BBQ Seasoning! See how to be the host of your own dinner party and show off some of your newfound skills for making a better BBQ by learning a couple of BBQing tricks and adding them to your cooking arsenal.
ABOUT THE AUTHOR
Renée Clare-Kovacs is the Director of Marketing & Strategy at Mama's Masalas. A mama herself, she spent her parenting years working to instill the things that are important to her and her husband--culture, justice, and wonder--into their children. With both in college now, she is learning to love them from afar, hoping they become the best versions of themselves they can be.
Renée grew up in Flint, Michigan and got to the South as quick as she could. In Atlanta, Georgia, she was raised into Southern traditions of hospitality, Southern and coastal foods. While getting this education, she also earned her bachelor's degree in English from Central Michigan University and her master's degree in Digital Content Strategy from the University of Kansas.