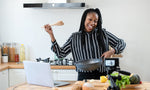 Show Us What You Got!
ICYMI, Mama's Masalas has been here for just over 3 months now. That means you've been reading along to learn how Mama's Maslas easily make mama-approved meals in under 30 minutes. 
We know you're out there loving our Pakistani-inspired spices, but you don't know who else is out there. We're going to solve that! Today we are excited to announce our Hey Mama! Look at me! Contest*. This is your chance to become internet-famous by showing the world how much you love your Mama! 
Okay, What?
We're looking for you to share how you're using Mama's Masalas. It's really that simple. Snap a pic of yourself pouring out our Pakistani Butter Chicken or take tikka to TikTok --bonus points if you go vegetarian. You know the deal, delicious meals in 30 minutes using fresh ingredients. Tell us (and your friends) about it! Tag us!
Oooh! So you're more cinematic and complex. We feel that. Bang out a YouTube video of you using Baigan bhurta seasoning. Pop us on your podcast! Home cooks and budding chefs, we want to see what you can do!
Really what we're saying is be as creative as you want with your Mama's Masalas, record, and share it.
Did We Mention You Could Win Mama's?
Courtesy of New Africa from Shutterstock.
You're out there taking pictures of your food anyway, and you know moms across the country have taken over TikTok, so posting about Mama's Masalas just makes sense! To make it more thrilling, however, we're offering up the chance to win more of Mama.
Our first prize winner will receive a

Mama's Masalas Special Offer

--1 of each of Mama's great seasonings to restock your pantry.

The second prize is a

$15 gift card

. While this is usually recommended for wedding showers and graduate gifts, we know that $15 of Mama's goes a long way in a quarantine kitchen.

The third prize is your choice of one of Mama's Masalas' seasoning mixes.
The piece of content that creates the most buzz will be the winner. We're talking about sharing, commenting, trending, going viral! What doesn't Mama want her darling to become famous with her help?  
Get In On This
We know you're ready to get this dinner party started, but hold on just a minute. We want to give you a way to reward your content before the contest ends. Now until July 31, follow this link to enter the contest. We will email you a code to get 15% off your order so you can get started creating ASAP. We'll also give you a code to share with the content you post that will give your followers 10% off their first purchase! 
You'll also be letting us know where to look for your content. Okay, yeah, we'll probably follow you--Mamas need proof of life, you know. 
If you're not sure if you'll be able to cook something up before July 31, 2020, when the contest ends, sign up anyway! You get 15% off your Mama's Masalas order, and we're pretty confident that once you have your seasonings in your kitchen (or someone else's, we're not picky--just keep it legal, please #nobreakingandentering), you'll be inspired to post something. 
And, if you don't have the bandwidth to share with us, that's fine too. Be sure to encourage those who are participating! You'll see them on our pages because we'll certainly be sharing. Help them by amplifying their content. Share away! That's the whole point!  
Courtesy of

@

gfaught

from GIPHY.
Get yourself registered because we can't wait to see what you're doing!

Renée Clare-Kovacs
Contributing Author