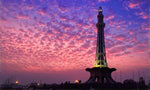 Culture is at the heart of Mama's Masalas. If you've read Mama's Masalas' story, you know that sharing Pakistani culture is why we started our business. We understand that one of the most challenging parts about learning new things is the fear of asking "dumb" questions. Relax! We are excited to share Pakistani culture with you, and the only way your question can be dumb is if you don't ask it.
To get you started, we want to talk about Pakistani talk. It's a perfect place to start considering that we're calling it Pakistani when the language spoken in Pakistan is Urdu. Read more to learn some phrases that will be useful if you experience Pakistan in person, in a Pakistani restaurant, or in your own kitchen using Mama's Masalas.
Assalam O Alaikum--Hello, the start of a conversation
Assalam o alaikum is hello in Urdu. The friendly greeting has the same purpose in Urdu as English. Kia haal hain continues the conversation, asking the person how they are doing.
Photo by Mama's Masalas
Zaberdast!
Travel-Culture.com defines zaberdast as "a strong complimentary word that you can use for anything awesome or incredible– whether it's food, service, your health, an event or time spent in the country." Travel Culture also says that the word "is one of the longer words, but it's full of zeal and zest" making it a useful one in our opinion. Your knowledge of Urdu is becoming zaberdast very quickly!
Photo by Mama's Masalas
One Urdu compliment is not going to get you far so here are a couple more:
Bhot mazaydar

--very tasty

Kam masale wala kia hai

--what is there to eat that is less spicy? 

Main gosht naheen khata

--I am a vegetarian 
Urdu for Everyone
Speaking of great things to eat for vegetarians, you'll find some Urdu on Mama's Masalas. Our baigan bhurta is a blend of spices to be cooked with eggplant for a delicious vegan meal. For our meat eaters, the characteristics of the Punjab province of Pakistan, Lahori, are celebrated in our lahori chicken tikka bbq.
Show Us Your Urdu
Now that you know a bit about Urdu show us your silly! We will be posting cue cards to our Instagram page. Record yourself saying each of the words with the #sayitwithme and tagging @mamasmasalas to thank you personally. 
Be sure to follow us on Facebook and Instagram for more zaberdast ways to make meals. Love something? Show us! We love to see you cooking with Mama's!
ABOUT THE AUTHOR
Renée Clare-Kovacs is the Director of Marketing & Strategy at Mama's Masalas. A mama herself, she spent her parenting years working to instill the things that are important to her and her husband--culture, justice, and wonder--into their children. With both in college now, she is learning to love them from afar, hoping they become the best versions of themselves they can be.
Renée grew up in Flint, Michigan and got to the South as quick as she could. In Atlanta, Georgia, she was raised into Southern traditions of hospitality, Southern and coastal foods. While getting this education, she also earned her bachelor's degree in English from Central Michigan University and her master's degree in Digital Content Strategy from the University of Kansas.