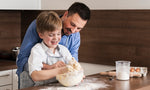 Image from Freepik.
Father's Day is just around the corner. What better way to celebrate the day than by sharing hearty laughs and creating warm memories. We've gone ahead to put together a collection of kid-friendly meals you and your children can cook at home. Have fun making easy meals for breakfast, dinner, and dessert by recreating the simple recipes provided below.
1. A Collection of Easy Meals for Breakfast
Image by PhotoMIX, Ltd. from Canva.
BBC Good Food has close to 40 options to choose from for breakfast that kids as young as three years old can assist you in making. Each recipe comes with nutrition facts, ratings, and shopping tools for buying ingredients online and creating digital shopping lists that can be saved and used for later. Besides having these tools, there's a comment, question, and tip section at the bottom of each page. Learning how the recipe fared for others and knowing all the pointers will help you create the best Father's Day breakfast. 
2. Kid-Friendly Barbecue Chicken
Lahori Chicken Tikka BBQ 
You can't go wrong with barbecue chicken in the summer! This easy meal only has six ingredients.  With the help of your young ones, you can make this meal in 30 minutes or less. 
To make dinner even more of a breeze, instead of preparing your own homemade salad, pair this meal with your favorite salad kit found at your local grocery store.
3. Don't Forget About Dessert! 
Image by topntp26 from Freepik.
After a barbecue dinner, how could you forget about dessert? Here's a light and fun gelatin recipe that you can prepare with your children. 
Watermelon Fruit Jello 
Total Cooking Time:
30 minutes (approximately)
Servings:
15 
Ingredients:
1 Medium Watermelon 

6 ounces of Flavored Gelatin (any flavor)

10 teaspoons of Unflavored Gelatin

4 cups of water 

2 Cans of Fruit Cocktail in Heavy Syrup (drained)

 
Instructions:
Cut the watermelon in half and leave one half of the watermelon aside. 

Using a large curved spoon or an ice cream scoop, scoop out all of the watermelon's pink flesh. Set scooped pieces aside to eat for later. 

In a medium bowl, using a large spoon, mix the flavored and unflavored gelatin together. 

Boil 2 cups of water and add to the mixture. Stir the mixture with either a fork or a whisk till all the particles are dissolved. 

Next, add 2 cups of cold water and 2 cans of the fruit cocktail (drained). 

Pour the mixture into the watermelon shell. Cover with plastic food wrap and place in the fridge for at least 4 hours to set. 

Cut into slices and enjoy!
Image by August de Richelieu from Pexels.
Whether you all choose to make one meal or three easy meals, this guide should be able to help you even if you're not comfortable in the kitchen. Most importantly, whatever or however you choose to spend time with your children, you all should have fun. So remember to keep it light!
If you enjoyed reading this post, check out our last blog post about rheumatoid and osteoarthritis and why certain herbs and even adopting a plant-based diet are great arthritis pain-relieving remedies. 
ABOUT THE AUTHOR
Janelle Adams is the Digital Content Producer at Mama's Masalas. Having a cross-functional position, she is responsible for editing blogs and product descriptions, identifying and creating needed graphics and videos, managing all social media channels, and assisting in product line development.

Being a native of Georgia and a lover of the metro-Atlanta area, she naturally chose to study in-state. While at Kennesaw State University, Janelle joined the Kennesaw Marketing Association (KMA), which allowed her to form marketing-focused connections, and attend networking events in the region. In May 2020, she graduated with a Bachelor's Degree in Business Management.

Having an acute eye for design and a need to build, Janelle often creates digital art on Adobe Photoshop and Illustrator, and practices constructing computer-based models on Rhinoceros 3D.