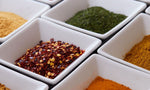 Photo by Foodie Girl from StockSnap.
Add some seasoning to your quarantine cooking.
COVID-19 has us feeling some kind of way. Staying at home for meals by choice or limited seating at restaurants means that we're all quarantine cooking. We've cooked our favorites. We've cooked the classics. We've cooked sourdough. We've made a mess to make Dalgona Coffee. Now that we've emptied out our kitchens, we've gone to growing our own food. We've even started doing things our foremothers did to "put up" all this food -- jarring and freezing.
Photo by Food Network.
It's been so long. And we're kinda bored with it -- but hey, bingo's fun!
Keep it Up
Yeah, you've turned into a domestic gnome. You have made your own stock in every flavor. You've baked cookies and cakes until your (pajama) pants don't fit anymore. You know you're not alone when All Recipes makes a special section of quarantine cooking recipes, but hey --- you're learning some great things!
You know that baking is an exact science while cooking is more free-form. Homemade anything tastes better than store-bought by miles. And that eating the same thing for days on end, even if it's mac and cheese, gets old fast.
Quarantine Cooking for a Season(ing)!
The fastest and easiest way to keep the creativity and excitement for your meals flowing is seasoning. You know that cabinet of bottles and jars and extracts that your mom has? There's a reason for it. C'mon, you know that you liked eating in her kitchen more than you like eating in yours. The magic wasn't just that you didn't have to do the work of making a meal, it was her secret potions contained in that cabinet. Don't be so stubborn that you can't admit that your meals could use something more. But, of course, you shouldn't be hanging out at the market picking and choosing from the spice aisle. That's where we come in. Our seasonings are pre-mixed using a time-tested blend of spices that have been proven to make mouths water. Just listen to what these fa'v ' ns had to say about our Baigan Bhurta seasoning.
Wakes your mouth up? Yes please! 
Just Save It
The good news in all of this is that it isn't going to last forever (even though it feels like it will). It may sound trite, but someday we'll look back at this time with a fondness. We worked with our pets. We wore everything comfy. We got closer to the ones we love and had a good reason to stay away from those we don't. 
Food is the one thing that you can keep as a reminder of this simpler time. Canning and freezing are growing in popularity as we grow our own food. If you're tired of what you're making now, learn how to preserve it so you can have it when things return to our new normal. 
Photo by Pixabay.
Even this art of the old days can be improved with seasoning. Try adding the following flavors to your basic jams, salsas, and veggies for a boost when you break the seal:
Cloves

Ginger

Basil

Cinnamon

Mint
Eventually, we will be able to visit our friends again. You'll be able to take them the foods you've preserved and invite them over for casseroles you've frozen. Until then, keep getting creative with your quarantine cooking. Remember it's a season(ing) -- it too shall pass.

Renée Clare-Kovacs
Contributing Author