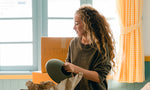 After living under your parent's roof for, oh, ever, you're finally getting your own apartment. Congratulations! We know the excitement that comes from having your own space. We also know the frustration that comes from admitting that Mama was right, especially when it comes to having a well-stocked kitchen. The secret is that it takes years of practice and experience to know what first apartment kitchen essentials you need. This new apartment checklist is a guide to help you as you get started packing or unpacking. 
Essentials
The first apartment kitchen essentials you're going to need are things to cook with and things to eat with. The rest of the new apartment checklist is irrelevant without these. 
Frying pan

Saucepan

Mixing bowls

Baking dishes

Measuring cups and spoons

Can opener

Plates

Bowls

Silverware
Each of these options comes with an overwhelming amount of their own options--get what you like best that is in your price range. It's likely you just dropped a large chunk of your bank account on first and last month's rent and a security deposit. There's no shame in taking hand-me-downs and working your way up. Maybe your dishes don't match. Don't invite people over who would mind--they're not your friends anyway. If you have a gourmet cookware set, then you'll soon find out that its heat distributing core set builds character and will make you appreciative. But if you don't have a gourmet cookware set, learn where your pans' hot and cold spots are. You'll work your way up to a gourmet set eventually.  
For now, you're cooking in your own kitchen. Be grateful for that.
Tools
Once you have the essentials to work with and serve on, you'll need ways to move ingredients around. Again, our new apartment checklist is general, and while new, state-of-the-art gadgets are great, anything that works is of value.
Spatula

Bowl scraper

Serveware (lettuce tongs, pie server, etc.)

Funnel

Storage containers

Cutting board

Silverware organizers
This list is the most versatile. There are more specific tools that are nice to have like a pasta cutter but you can do without. Ask for them during the holidays.
Recipes
With the basics in place, you need something to use them with. Ask everyone you know for their favorite recipe. You'll get a vast range of ideas, some you'll be ready to jump into, others you'll have to shelve until you have a day off -- really Aunt Ida, who has 6 hours to stand over a simmering pot?! Trust Mama, those all-day recipes are worth the investment, that's why they tend to be family classics, but it definitely takes commitment to make them.
Sometimes you're going to need fast-and-furious. Remember what finals week is like? There is barely time to eat, let alone make Aunt Ida's all-day casserole. For days like this, make sure you have pre-prepared mixes on hand. We'd like to recommend our seasonings for meals that are quick to make but are also healthy and something different from ranch or cheese-covered typical American fare. (Parents of young adults moving into their first apartment, a Mama's Masalas gift card is a great housewarming gift that lets them make another independent decision.)
This list is inspired by tobinlofts, who has a much more extensive list that is definitely worth the read--once you get settled. Moving into your first apartment is exciting, busy, and a little overwhelming. We hope Mama's new apartment checklist helps you focus and get what you need to make it through the first few days in your new place. Have fun with it. You'll look back and smile--we promise. In the meantime, make friends with your local delivery place.

Renée Clare-Kovacs
Contributing Author