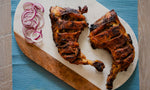 Paprika, chili powder, cumin, garlic, peppercorn, and the list goes on. There are so many spices available and combinations possible when it comes to creating homemade barbeque sauces, dry rubs, and marinades. Although many options can be great, too many options can also be paralyzing. Not having the time to research, and the wherewithal to test out different recipes can leave anyone confused. 
But there's a way out of this confusion. 
When it comes to transforming ordinary pieces of chicken into quality pieces of meat within a matter of minutes, Mama's Masalas' Lahori Chicken Tikka BBQ spice mix does just that. Skip having to take time out of your busy day to sort through various amounts of opinionated articles - articles in which authors often spar and bicker over which barbeque chicken spices are the best to use. But rather, learn how to use these small, but powerful spice packets to give you the confidence to make mouthwatering home-cooked meals. 
What is Lahori Chicken Tikka?
Lahori chicken tikka is a traditional aromatic dish of Pakistan, in which pieces of chicken at first are marinated and later char-grilled. What gives Lahori chicken tikka a pungent and mildly spicy flavor is due to the number of spices and the type of spices used. This marinade is composed primarily of paprika, arrowroot powder, salt, and garlic, with mace, smoked garam masala, and cayenne pepper being some of the secondary ingredients. 
With many spices used, Indians also can't help but fall in love with Lahori chicken tikka, as well. Southern Indians take a different approach, though, when it comes to seasoning it. In South India, Southern Indians typically opt for a spicier version, usually adding green chili paste to the dish, making it fiery hot. 
This affinity for all things hot and spicy shouldn't be a surprise. In Southern India, it's typical to harvest a variety of hot chilies. These chilies give Southern Indian cuisine that classic hot and spicy flavor profile. Whereas, in Northern Pakistan, mildly spiced and creamy foods are more common, since there are a large number of dairy farms in the region. As you can start to see, flavor profiles for both countries are based upon what's available to harvest at a particular time, and is also influenced by cultural practices, as mentioned previously in "A Surprisingly Easy Butter Chicken Recipe." 
Barbeque Chicken Spices Made Easy
Recipe #1: Pakistani Lahori Chicken Tikka BBQ 
Mama's Masalas' Lahori Chicken Tikka BBQ is an amazing aromatic dish that's fused with seasonings used in the original Lahori chicken tikka recipe and inspired by the indigenous Kalash tribe of the Himalayan region in northern Pakistan. These traditional homestyle seasonings bring out the best in the dish - a meal that's full of that rich umami flavor, making it impossible to forget. 
In less than ten steps and with six ingredients, you'll be able to recreate this unforgettable dish. Within 30 minutes, you'll have a mildly-spiced and elegant chicken entree ready to accompany any side dish of your choosing. If you're in the mood for traditional Pakistani and Indian side dishes, then try out this easy-to-do 20-minute jeera rice recipe. Or if you want to go more mainstream, then boil either white rice or brown in salted water. Whichever you choose, you won't be disappointed.
If you can't finish all 2 pounds of chicken by yourself, one of the best parts about making this recipe is that you can create so many dishes with the leftovers. With these ideas below, you'll find out how yesterday's leftovers can be tomorrow's next meal. 

What Are Some of the Options for Leftover Meals?
There are many! For breakfast, you can spend your time in the kitchen, whipping up barbeque chicken omelets, or making BBQ chicken filling for biscuits, as mentioned in the first blog. But, if you're not left wanting leftovers for breakfast, and are craving something delicious for lunch or dinner, then check out the next leftover recipe, Recipe #2: Lahori Chicken Tikka BBQ Salad. 
Recipe #2: Lahori Chicken Tikka BBQ Salad 
If you've gone ahead and made Mama's Masalas' Lahori Chicken Tikka BBQ and have quite a bit of it left, then you've come to the right place! This salad is packed with tons of flavor and is especially refreshing for the summer months ahead. 
What you'll need for this recipe is:
12 oz of pre-cooked and chilled bone-in chicken thighs, drumsticks or both (flavored with Mama's Masalas' Lahori Chicken Tikka BBQ)

1 head of either butter, romaine, or iceberg lettuce 

1 cup of plain organic seasoned croutons 

1 pint of cherry tomatoes 

1/2 cup of plain ranch or a creamy dressing of your choice (see options below)
Now, here's how to make it: 
Shred the chicken into a small-sized bowl, and discard excess bones. 

Wash the lettuce under cold water, dry, and cut the core off. Chop the lettuce into 1" to 1-1/2" pieces. Separate the lettuce from the chicken by adding the lettuce to a medium-sized bowl. 

Wash the cherry tomatoes with cold water and cut them in half. Add the tomatoes to the chopped lettuce. Toss lightly. 

Add the shredded chicken to the tomatoes and lettuce in the medium-sized bowl. Toss lightly. 

Now add plain ranch or a creamy dressing of your choice (see options below), and don't forget the croutons! 
Serve immediately and enjoy!
Besides the Original Ranch Dressing, Which Other Dressings Would Pair Nicely with this Salad? 
Besides the original ranch dressing, other great store-bought dressing to go along with this salad would be ones that have creamy bases to them. 
Avocado ranch dressing is an excellent addition to add to this recipe if you're seeking something creamy and smooth. But, if you're looking for an added quick, then try jalapeño ranch dressing.  
If you can't make it to the store, however, then you can also create an equally delicious homemade sauce: garlic yogurt. All you need for this quick and uncomplicated recipe are a couple of pantry spices and a few ingredients out of your fridge.
To make about one cup of garlic yogurt, you'll need: 
 6 medium-sized cloves of garlic or 3 tsp of garlic powder

1/2 tsp of salt 

2 tbsp of lemon juice 

1 tsp of plain yogurt or preferably sour cream 

1 tsp of egg white 

1/2 cup of vegetable oil 

1 tbsp of water
Instructions: 
Blend the garlic, salt, lemon juice, and egg white into a smooth paste. 

Keep the blender going and slowly add the vegetable oil into the smooth paste. After these ingredients are evenly mixed, turn off the blender. 

Next, add the sour cream and the 1 tbsp of water. 

Blend it again for 10-15 seconds to mix correctly. 

Chill the sauce for 30 minutes. Every once and awhile, stir occasionally. 

After taking the garlic yogurt out of the refrigerator, drizzle the sauce on top of the salad. Enjoy! 
So What's The Big Idea with Using Leftovers?
Although using leftovers is a simple concept, there's a deep meaning behind it. Believe it or not, you're doing yourself, the environment, as well as those around you a favor by eating leftovers. 
Now, what do I mean by that?
Affected by many human-made factors on a 24/7 basis, the environment is negatively altered by our decisions to throw away perfectly fine and edible food. For instance, in 2015, the Food and Agriculture Organization, in one of their reports, stated that landfills and waste centers around the world "produced 17% of global emissions in 2015." These global emissions not only contribute to global warming but also impact the future of humanity. Some steps can be taken, however, to reduce your ecological footprint. 
Another point to mention here is that by eating leftovers and staying at home, you're putting yourself and others out of harm's way. So this means no more sporadic restaurant drive-thru and grocery store trips. Reduce the spread of COVID-19 by remaining at home and cooking with what you have.
Photo attribution made to Martin van den Heuvel from Pixel. 
As you see now, creating savory meals and taking care of yourself and the environment isn't all that hard. After reading this blog post, you have seen for yourself that it doesn't take a whole lot of patience, research, and artistic skill to craft up bold barbeque chicken spices. Now that your research is over, it's time to get cooking! 
If you're interested in learning about different fun activities to engage our bodies and minds during this time, please take a look at "What Do Organic Spices and Social Media Have in Common with World Health Day?"
ABOUT THE AUTHOR
Janelle Adams is the Digital Content Producer at Mama's Masalas. Having a cross-functional position, she is responsible for editing blogs and product descriptions, identifying and creating needed graphics and videos, managing all social media channels, and assisting in product line development.

Being a native of Georgia and a lover of the metro-Atlanta area, she naturally chose to study in-state. While at Kennesaw State University, Janelle joined the Kennesaw Marketing Association (KMA), which allowed her to form marketing-focused connections, and attend networking events in the region. In May 2020, she graduated with a Bachelor's Degree in Business Management.

Having an acute eye for design and a need to build, Janelle often creates digital art on Adobe Photoshop and Illustrator, and practices constructing computer-based models on Rhinoceros 3D.