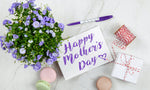 Image attribution made to

Giftpundits.com

from

Pixel. 
As the biggest pillar of strength in our lives, moms are often the first go-to in times of trouble and in times of happiness. They're always there to give us advice and encourage us to keep treading forward. For these reasons and many others, this is why we celebrate Mother's Day each year. 
But finding the right way to celebrate mom this Mother's Day is a little challenging, however. As we all know too well, this Mother's Day will be unlike any other. As movie theaters, restaurants, and spas across parts of the country remain closed amidst the pandemic, it's easy to believe that there are few to little options out there to celebrate this special day. 
But that is not necessarily the case. 
Instead of taking your mom, partner, or wife out to a public spa or even a restaurant this year, take a different, and much safer approach. Surprise her with an elegant outdoor family picnic, treating her to a delicious main course meal made from this vegan eggplant recipe, or spoil her with beautiful hand-made gifts. 
Whatever you choose to do, we've got you covered!
Image attribution made to

Gustavo Fring

from

Pixel. 
Looking for Creative & Affordable Gifts For  Mom This Mother's Day?
If you've been searching for thoughtful yet economical gifts fit for any mom, wife, mother-in-law, grandmother, or mother-figure in your life, then you've come to the right place!  
Below, we've put together two fun-filled activities you can choose to do, to honor that extraordinary woman in your life.  
Activity #1: Design and Create a Family Collage
Image attribution made to Simon from Pixabay.
With these simple time-saving steps below, designing art collages for Mother's Day couldn't be easier. Just by using a little bit of creativity along with a couple of supplies, you can transform any given blank wall into a timeless and beautiful piece of art that she'll remember for years to come.  
Step #1: Brainstorm and Choose a Theme or a Story 
Whether this is a solo-project or you're doing this project with your kids, sit-down privately and brainstorm what the collage will be about.  
If you're choosing a specific theme, then try selecting a topic that's relevant and pertinent to the day. For example, if you'd like to design a collage that represents the ideas of "motherhood," "family," or "love," then find and select copies of pictures of mom and the family together.  
Or maybe you'd like to take a different approach. Perhaps you're a story-teller, who has the talent of sharing stories and captivating audiences visually. For this project, go ahead and narrate a story by either using images of amazing trips you and your mom have been on or special moments you both share.  
Whether you choose to express her by telling a story or by choosing a specific theme, make sure it's something she would like. 
Step #2: Choose The Type of Collage to Make  
There are numerous types of collages such as magazines, fabric, paint, wood, découpage, and more. With many varieties, it can be confusing to choose which one to do. That's why we've gone ahead and narrowed down the ones that are easiest and most relevant to you.  
If you don't have many magazines or copies of family photos lying around at home, then you can create digital collages by using a free online tool called PhotoCollage. This online tool is extremely user-friendly, and even kid-friendly too.  
On the other hand, if you happen to have plenty of magazine clippings and copies of pictures, then consider making a photo and magazine collage with your children. This activity is an excellent way for both you and your kids to spend quality time together and bond.  
Step #3: Collect Images, Assemble, and Hang.  
If using PhotoCollage, go ahead and drag and drop relevant image files onto the digital canvas. Size, style, and edit pictures within a matter of minutes. After doing so, save the photo collage to a USB drive and take it to any number of affordable print shops in your area to print out your beautiful design on glossy paper.
In contrast, if you've decided to make a magazine or photo wall collage, finish collecting all available photos and images needed. After that, go ahead and cut, glue, and paste images and pictures to either a thick RagMat board or a blank canvas.  
The option is all yours.  
Whether you choose to create a digital, photo, or magazine collage, one thing is for sure: Frame, hang up, and visibly showcase your masterpiece in one the family rooms. Unquestionably, the moment she lays her eyes on it she'll be pleasantly surprised! 
Activity #2: Throw The Perfect Family Picnic
If you happen to be sheltering in place with mom this Mother's Day, another way you can say "thank you" to her is by organizing a family picnic in your own home. Read on to find out just how. 
Step #1: Choose a Great Spot 
Say "goodbye" to mid-spring Cabin Fever, and say "hello" to the outdoors. 
If the weather is permitting on Mother's Day, spend time outdoors by setting up a picnic in a quaint and spacious shaded spot. If it's rainy or stormy, choose to set up indoors. 
Step #2: Try This Vegan Eggplant Recipe & Other Yummy Meals For The Main Course
By not taking the one-size-fits-all-approach, we recognize that every mom has different food preferences. Whether she's a vegan, vegetarian, or an omnivore, or a lover of breakfast, brunch, lunch or dinner, we've got the perfect main course options ready for you to make.  
If you're planning on doing a picnic within the breakfast/brunch time frame, and want to create a healthy and nutritional breakfast, then take a look at our breakfast blog post. There you'll find plenty of plant-based and meat-based meals suitable for any mom.  
However, if you're planning on doing a picnic for lunch or dinner, then check out this vegan eggplant recipe, as well as this easy butter chicken recipe. These two meals are perfect options for mothers who've chosen to follow a vegan or vegetarian lifestyle.  
Contrarily, if she's a fan of meaty dishes, then be the hero of your next backyard or in-home BBQ depending on the weather. Transform your next meal by marinating ordinary pieces of chicken with BBQ.  
If you choose to make one or more of these meals, it'll show that you were willing to go the extra mile to make her feel special. Doubtless, she'll be impressed by the meal, and relieved to have the day off from the kitchen. 
Finding options and creating customized gifts during this time, isn't so hard. Whether it's making collages, following a vegan eggplant recipe, or even throwing a picnic, these are all unique and clever ideas to honor mom during these unusual and trying times.
ABOUT THE AUTHOR
Janelle Adams is the Digital Content Producer at Mama's Masalas. Having a cross-functional position, she is responsible for editing blogs and product descriptions, identifying and creating needed graphics and videos, managing all social media channels, and assisting in product line development.

Being a native of Georgia and a lover of the metro-Atlanta area, she naturally chose to study in-state. While at Kennesaw State University, Janelle joined the Kennesaw Marketing Association (KMA), which allowed her to form marketing-focused connections, and attend networking events in the region. In May 2020, she graduated with a Bachelor's Degree in Business Management.

Having an acute eye for design and a need to build, Janelle often creates digital art on Adobe Photoshop and Illustrator, and practices constructing computer-based models on Rhinoceros 3D.